My last article was quite a deep introspection on How to Spice up your bedroom life. But we'll slightly deviate from the routine as V day is approaching. A lot of readers are browsing around for valuable information, or should we say ideas for the most lovey dovey date in the calendar. So, this is your innovative guide for this Valentine's Day. Some people just plan for anticipated chocolates and roses while others earnestly look forward to make it a big day. It may be your first Valentine or umpteenth one, but you have to swear by the magic of this date. This day has a beautiful and romantic ambience with love written all over it.
I only remember George Eliot who candidly states, "I like not only to be loved but also to be told I am loved". He hits the chord right by an honest confession of human feelings. No matter how much we know and understand each other, there is an inherent need for expression. Love needs to be showed, at least occasionally. Thanks to the ones who blocked a day in the calendar, so we know when we are supposed to show love. Read on folks, the forthcoming V Day is all yours, so create a charming memory. Here are some creative, wild, romantic and fabulous ideas for this Valentine's Day.
Have a bed breakfast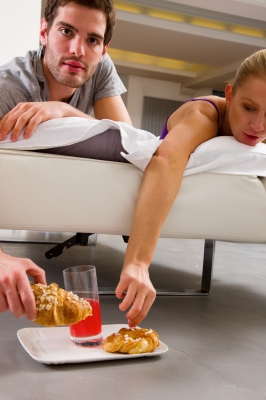 You may set the romantic tone right in the beginning of the day. Plan a bed breakfast as a surprise and wake up your beloved to the smell of delicious food. Make the breakfast elaborate with roses and candles. It should obviously conclude with a passionate dessert.
Go for a self pampering session
Book a spa for both of you so that you can unwind together. This will be of added benefit for you to have a relaxing break from the hectic routines. The erotic aroma of lavender and tea tree oils will rejuvenate your senses. Feel the passion and kindle your bond of love. Needless to mention, it will set the tone for some late-night fun.
Play Truth and Dare
This one is a wild and awesome idea that won't cost dear to your pockets. You can choose dare from trying out lingerie to making dinner. Dance, strip or mimic; you have endless choices for having fun. Truth may also be fun as you two take a dig into your respective minds. Ask him, "when was the last time you wanted to have sex with me in the middle of the party?" She can be questioned about her favorite position in bed. Be open, innovative and naughty.
Get Sporty
Redefine your expression of love and intimacy by trying out a wild adventure sport. Do it together and test your limits of adrenaline rush. It could be a hot air balloon ride, paragliding or some water sports. A recent survey revealed surprising results. A substantial number of couples felt that they preferred a sporty date instead of a cliché romantic hangout. So are you in?
Surprise your beloved at the office
This one is a simple yet amazing idea to say "I love you". If you plan to surprise your partner then arrive at their office during lunch just to say how much you care. Take along a few chocolates or their favorite dish. You may even go for a hand written note that expresses your feelings. Do whatever comes to your mind; it's your day so make the most of it.
Buy her Lingerie
Surprisingly, lingerie turns on women. They feel loved and more proud of their bodies when you gift them sensual apparels. Choose from the myriad backless, strapless and sexily designed outfits out there. Invest in a sensually compelling outfit and your lady will adore the garment for years to come.
Have a shower together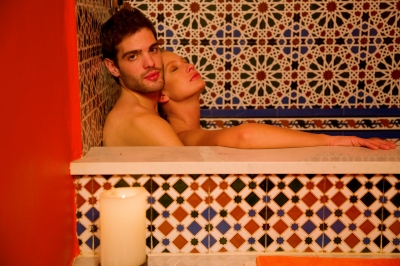 A good hot shower or a bathtub ritual is a perfect way to be intimate. We leave it to your creative wisdom on how you plan it. Add flowers, scent, candles and all sorts of frills to that romantic bath. Make it special and memorable. Take a bubble bath or just lie down by immersing your bodies into water.  Connect with each other by indulging into talks and you can always conclude it in bed if you like it so.
Lunch alfresco
There is something amazingly special about a lunch in an open space. It could be a restaurant, poolside buffet or some outdoor picnic along seaside. Look for alternatives that suit your taste. A luxurious and delicious lunch is a great way to celebrate Valentine's Day. Do not forget to dress your beautiful best in red ensemble. Make a perfect pair that turns eyes.
Wine and dine at home
We know there's a bit too much crowd at restaurants, hotels and clubs and you desire complete privacy on this day. How about managing an elaborate wine and dine program at home itself?  Dim lights, satin sheets, splendid cutlery and a luxurious dining arrangement are what all you need. So, you can enjoy a brief dance, have talks and finally indulge in your favorite cuisine.
Massage each other
You need not step out into public places to have fun. Valentine's Day can be made special in the very premises of your home. Relationship experts assert the importance of a massage and how it brings two people closer. It revitalizes your body and mind. Give each other a touch of passion and no one is stopping you to get naughty!
Matching Tattoos
Tattoos are a fun and cool way of expressing love. You may want to create a memory of a lifetime this Valentine and do it together. Getting complimentary tattoos is also a good idea if you both have discussed to take it to the next level. It's slightly painful but worth the shot. You surely will love it as a souvenir of your relationship.
Go for cruise or a helicopter ride
If you love heights or the aqua waters then go out of your way to have fun. This Valentine's Day celebration could be a little pricey but worth the expenditure. There's nothing more romantic than watching the city lights from the sky. You should not miss an awesome kiss amidst water and a star studded sky. Already thinking? Aren't you?
Make a home video
Create you very own home video this Valentine. It may sound a bit boring at first but believe me you'll love it for years to come. Get naughty, candid and explore your fun side. Speak your mind and say what you have been holding back all this while. It should be an outpouring of emotions; an experience memorable and lovely. You may love to watch it over and over again in years to come.
Write a poem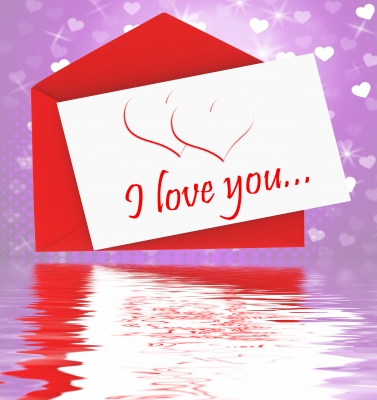 Many of us were nice poets at college but the passion withered away with time. This is your chance to revive and revitalize your thoughts and pen it down. Tell your significant other about how much you are fond of them and what it means to be together. Express your feelings like you have never done before. It's going to be truly memorable.
Revive your home or your bedroom
Redecorate or alter your home décor this Valentine. It's going to be refreshing and set the romantic tone for the entire year. It marks a new beginning and helps you get rid of baggage, both physical and emotional. Make it urban, retro or transform into a love zone; the choice is all yours.
Bathe in nature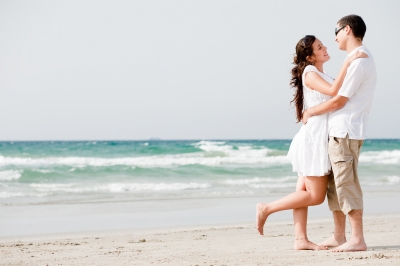 Immerse in the beauty of nature by taking a bath in a spring, waterfall or river. Blue sky, lush green surroundings and sounds of birds is a fairytale we all admire. It's your chance to have fun in a romantic setting away from urban hustles. It's truly invigorating and blissful.
Watch basket ball
Yes, we mean basket ball. Going to watch a favorite sport is an energetic way to celebrate the Love Day. Dress up in matching sports outfit and cheer up your favorite team. Sounds different? Try it once, you'll surely love it.
After this array of ideas, we are sure you're ready for a fabulous and fun filled Valentine. It's crucial that you read your partner's mind and plan something mutually interesting and enjoying. As per a recent study, more than 74% of the partners felt that their Valentine's Day present was not as per expectations. Shocked? Hopefully you wouldn't want your partner to be a part of this chunk. So, buckle up, introspect and be wise in your pursuit of love.
In case you are one of those who are trying to keep things under budget, many of the above ideas would be perfectly fine. Remember, it's not about the price tag but about the experience you create. No matter which idea you choose, it should be full of affection and pleasure. Also, do not to forget the 'happy ending'. Do we need to mention that you sign off the day by passionate cuddling between the sheets? You know it better. Don't you?